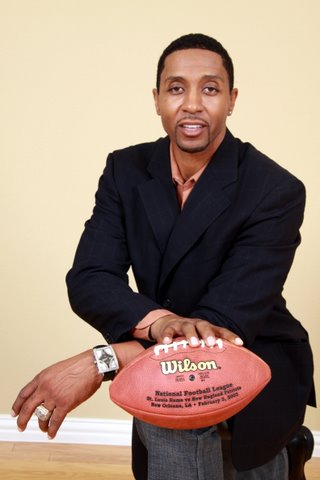 Mike "Scooter" McGruder is a former NFL player. Over his 12-year career, Mike has played in championship games for the Miami Dolphins, the San Francisco 49ers, and in Super Bowl XXXI with the New England Patriots.
During Mike's tenure in San Francisco, he became the team captain and led them in interceptions. He also tied for 3rd in the NFC for most interceptions and was selected as an alternate for the NFL Pro Bowl. In 1998, he announced his retirement.
Mike was once voted as one of the best names in the NFL and received a True Value Award in 1995 and a Generation Excellence Award in 1997, which was given by United Way because of his impact in the lives of others. He also received an NFL Extra Effort Award and was a finalist in the Bar Starr Award in 1997—this is an award that is voted by NFL players for leading a life that models a high moral character. His former teammate, Steve Young, won this award.
Mike's business knowledge and success, has made him a sought after speaker for corporate functions. He was a partner with the Trinity Entertainment Group for more than 10 years, which won the Blockbuster Video Franchise Award twice. He was also a partner of Trinity Properties, a Texas real estate management company.
Raised in the inner city of Cleveland, Mike witnessed the devastating effects the streets can have on our youth. Heavily involved in charity work and passionate about improving the lives of others, Mike founded Platinum Charities Foundation (PCF). The 501(c)(3) provides positive change to underserved communities through scholarship initiatives, football camps, and other youth-based programs. In addition, PCF developed a campaign that brings awareness about domestic violence and provides homes in each of the 32 NFL cities for abused women and their children.